Tired old original Rolex President bracelet
Original Rolex hidden clasp renewed by Capetown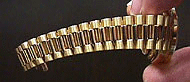 Geneva Collection after-market 18kt gold links with original clasp re-attached. Voila! Save thousands.
Rolex watches are designed to last indefinitely. Unfortunately, the bracelets are not. How long do they last? That depends on your lifestyle, level of activity, and the care and consideration that you give your timepiece. However, like death and taxes, "metal fatigue happens," it's inevitable.
Leave it to Capetown to have all of the right repair options:
Authorized factory-made bracelets at a discount
Authorized factory-made pre-owned bracelets at greater discounts.
Capetown's Geneva Collection® of high quality, time tested, after market replacement bracelets at even better prices.
Often it is possible to renovate your original Rolex* clasp and re-attach it to the new after market links to restore the original factory appearance.
Give your droopy watch band a new lease on life by having our goldsmiths install our time-tested, Geneva Collection after-market links on your perfectly repaired authentic Rolex* clasp.
Enjoy both the dramatic savings of up to one thousand dollars and a no nonsense three-year warranty on parts and labor.*
Call our Atlanta Mail-Order Center between 10:00-6:00 EDT for pricing and options for your particular watch. (888) 4-A-WATCH, (770) 645-8555.
*Normal wear & tear and/or obvious misuse excluded.