Reprinted from MODERN JEWELER
By Jeff Prine
Senior Editor

More than 20 summers have passed since there's been this much talk about great whites. And although sales don't yet rival the revenue from "Jaws," 1998 will go down as a season filled with plenty of great white watch tales.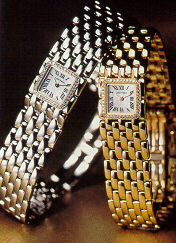 White and Yellow Gold
Manchette Watches
From Cartier
Fueled by the popularity of sterling silver as a best-selling "fashion precious metal," the resurgence of platinum as the premium upscale white metal, and the strength of stainless steel as the overwhelming white metal of choice in watches, white gold is giving aggressive retailers another opportunity to sink their teeth into this year's watch selections.
While no one is calling white gold watches the blockbuster of the year- clearly the big bullet on the charts is stainless steel- the concept of retailers stocking white gold watches is definitely news.
European watch lines have included white gold as part of their assortments for years, but they sold mostly yellow gold product in the United States. That changed this year, with both Geneva and Basel last spring offering more dressy white gold styles. Most of them were aimed at women.
"We have been aggressively ordering white gold," says Mike Zuckerman of Marvin & Sons, New York. "In the past, when we carried white gold watches, they just laid in the showcase. Now it's tough to get the inventory to meet the demand."
Indeed, the sudden surge in white gold watch sales may have caught many retailers, as well as vendors, off guard. Some company representatives, for example, say that white gold supplies are limited worldwide, and that the U.S. distribution often got the short shrift since many Swiss companies doubted that the white gold trend would extend into America, the bastion of yellow gold sales. "The volume may be in stainless steel," reports Daniel Bogue, president of Eurotime Corp., the U.S. agent for Chaumet, "but there's a customer who only buys gold. For her, you had better have white gold."
Ron Oppenheimer of Orologio in New Jersey says white gold and diamonds have performed well in styles from Vizio to Omega's Constellation My Choice. "Our casual styles continue to be the strongest, though, and that usually translates into stainless steel."
The dressy look, however, fits nicely into the customer profile of better specialty stores like Saks Fifth Avenue where the majority of customers are fashion-conscious women.
According to Jennifer Halter, fine watch buyer at Saks, customers have been responding so well to white gold in jewelry that she ordered as much as 70 percent of her entire gold watch assortment in white gold. "I'm getting calls every day from our stores asking about white gold," Halter says. "We'll be getting even more styles in by October and many customers already want to buy them."
White Gold and Diamonds
By Bertolucci

Halter and other retailers caution that the strength of their white metal business is stainless steel, including dressier steel with diamonds. But in the upper price points (above $10,000), where the customer can afford, and does buy, all gold, the choice is indisputably white. A prime example of the change can be seen in Saks' holiday catalog, which features a $38,000 white gold and diamond Bertolucci Poema.

Other brands that are experiencing increases in white gold include Cartier, Chopard, Piaget, Chaumet, Concord, Tiffany, and Chanel. Gold jewelry specialists such as Gori & Zucchi and Bosco also report watch increases that coincide with styles of white gold jewelry.

Both retailers and manufacturers report that the white gold watch trend has been strongest in the Northeast and Southern California markets. It is also surprisingly strong in southern Florida, where many South Americans are buying up white gold and diamond looks.

The understated luxury of white gold follows along the lines of other trends in luxury products. White metal may not look ostentatious to the masses but it's the ultimate in status for the upper tier.

The white gold watch phenomenon hasn't translated so far into men's watches, mainly due to the fact that stainless steel remains the white metal of choice, even in more expensive complicated watches. For the high end, the choice is platinum. "We are seeing more interest for luxury white metal in our men's styles," adds Stephen Butler, president of Chronoswiss USA, a complicated watch manufacturer. Of the 50 limited editions of Chronoswiss' $26,000 platinum Opus watch, half were sold to the Asian market and 18 of 25 balance sold in the U.S.

Companies report similar sales of their expensive white gold women's styles. At Bertolucci, for example, 25 of the 30 Poema models scheduled to enter the country by year's end have been spoken for already.

Although white gold styles may be difficult for retailers to find, some watch representatives say that white gold sales are also hindered by the steel strategy of many Swiss brands who are hoping to dramatically increase their volume- and their future case space. By emphasizing volume in lower priced stainless steel styles at the expense of fewer high-end white gold watches, these brands may force top echelon customers to look elsewhere for the subtle status of white gold. Catering to these customers is especially important for stores which are developing the women's luxury watch business.

Not all glitters with white gold for some retailers, though. Several are wary due to experiences in the past with the finish of some white gold rubbing off and "discolored" gold showing through. According to Tory Hoover vice president of Hoover & Strong in Richmond, Virginia, white gold is generally alloyed with either nickel or palladium. Since many European countries have prohibitions of nickel use, palladium is the obvious choice for international watch brands. However, palladium is a "duller" metal than nickel. "To make this alloy more palatable as white metal it is often coated with rhodium," Hoover explains. "Sometimes that rhodium can wear away where the watch of jewelry is exposed to skin contact and wear, permitting the 'yellower' palladium alloy underneath to show through."

Nonetheless, due to better manufacturing standards such wear is now the exception, rather than the rule. As Hoover points out, "If you don't find wear in white gold rings, which have constant contact, then it's doubtful a white gold watch will wear any worse."

Indeed, with the demand for white gold watches much higher than the supply as the peak selling season approaches, that is the least of fine watch retailers' problems in catching the white wave.