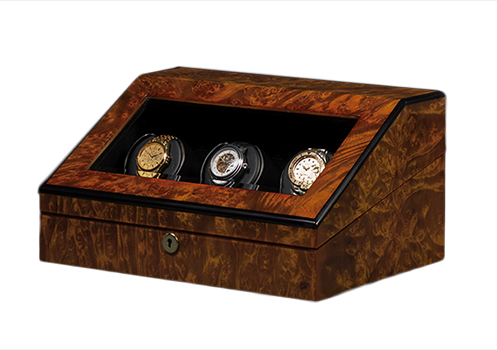 Item # OR0502

Orbita "Siena" Series Triple Watchwinder.

This watch winder includes a luxurious, fully-enclosed case with lift-up front and top glass viewing panels. Choose Teakwood, Maple Burl, Black Piano, or fine Black Italian Leather. Three motor drives, each programmable independently.

The sloped front case houses an easily removable drive station fitted with three ironless core gear motors to provide independent operation for each of the three rotating cups. Case is fitted with a beveled glass viewing panel.

User-programmable control allows each head direction and turns per day (TPD) to be optimized for the watch being wound.

Power is provided by either easily available "C" cell alkaline batteries or by the supplied AC/DC adapter. A "low" battery light automatically signals when battery replacement is due.

Choose from several available SIENA wooden cases, including Teakwood, Maple Burl, and Black Piano, all with high-gloss durable lacquer finishes, or luxurious hand-stitched black Italian leather. Cases are suede lined and have a spacious area in front to accommodate strap watches and personal jewelry. All cases are lockable.

For the complete Orbita line, click here. After you find something you like, call us, and we'll get you a discounted price!
Siena 3
| | | | | | | |
| --- | --- | --- | --- | --- | --- | --- |
| PART NO. | MATERIAL | FINISH | DIMENSIONS (inches) | WEIGHT (lbs) | LIST PRICE | CAPETOWN SPECIAL |
| W13000 | Teakwood | Lacquer | 6.8H x 13.2W x 10.2D | 11.3 | $ 1,995 | $1,495 |
| W13002 | Black Piano | Lacquer | 6.8H x 13.2W x 10.2D | 11.3 | $ 1,995 | $1,495 |
| W13001 | Maple Burl | Lacquer | 6.8H x 13.2W x 10.2D | 11.3 | $ 1,995 | $1,495 |