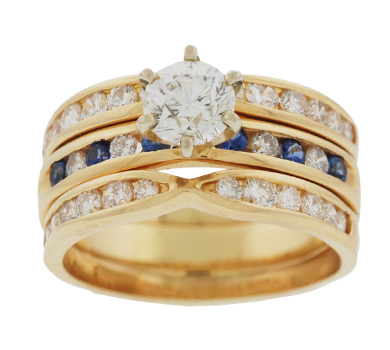 Item # CT13724

Lady's 18K Yellow Gold Diamond Engagement Ring.

Ring Size: 9 (Can be Resized to Fit Most Any Finger.)

Contains:

One Natural Round Brilliant Cut Diamond.
Weight Approx: 1.01ct, Color: F-G, Clarity: SI2 / I1.
Twenty-Eight Natural Round Brilliant Cut Diamond.
Weight Approx: .90ct, Color: Near Colorless, Clarity: SI / I1.
Six Natural Round Mixed Cut Sapphires.
Weight Approx: .30ct, Color: Blue, Clarity: Burma.
For a responsible young couple, this is an ideal engagement ring. I say responsible, because they are mature enough to understand that marriage entails a lot more then getting an expensive engagement ring. The beauty of this stone in such that it is everything a diamond should be. It weighs over 1 carat and that is the make or break for a 1 carat stone. It is a high white color stone, which is also very important. It is absolutely clean to a 20/20 vision naked eye. This is important, because we don't want the caddy end of her friends to say "look at those black spots, its horrible." It is an elegant drop dead gorgeous looking stone with a matching gorgeous mounting.

It has been evaluated by the largest gemological laboratory, so it can even be considered an investment. The average price of a quality engagement ring in the US is around $6,000. So at $5,790, you are buying it very right. But the important thing is, your gal has to like it. No sale is ever final here on an engagement ring, if it isn't want the gal wanted. Unless she is an unrealistic bitch, we will upgrade. Worst is, we will give you back her money, and tell you not to marry her. We have done this in the past, and we are pretty good at judging trouble makers.

It is in yellow gold, but if white is your preference, it wouldn't be too costly to remount it.

Complete with hand rubbed rosewood presentation box & IGI Appraisal # NY7878844

Remember, Capetown is Always the Wiser Choice!!
Also, remember If we're shipping anywhere outside the state of Georgia, you stand to save even more! As long as we ship out of state, you don't pay sales tax at Capetown. Legitimate Tax Savings of up to 10%!

Independent Laboratory Appraisal: $9,335
You Save Over $3,500!!!
Capetown Value: $5,790

At Capetown, we're always looking for interesting trade-ins toward any purchase, such as your fine watch or upscale jewelry. Please call our purchasing department with any inquiries.